Date : 5th July 2014 (Saturday)
Time : 8.00 pm to 10.00 pm
Venue : Ipoh Buddhist Dhamma Association (IBDA)
Topic : "Dhammacakkappavattana Sutta
(Discourse on Turning of The Wheel Of Dhamma)"
Discourse on Turning The Wheel Of Dhamma.
The Buddha's First Discourse, After His enlightenment, On the 

Full Moon Day In July

The Middle Way – Avoid the 2 extremes of  Indulgence In Pleasure & Self-Affliction
The Four Noble Truths
The Three Turnings (Of Wheel) – Recognition, Encouragement & 

Realization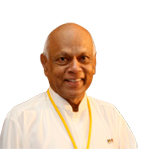 Biodata
Mr. Vijaya Samarawickrama graduated as a Specialist in the Teaching of English as a Second Language from the Malayan Teachers' Training College in Liverpool, England . He later obtained a B.A.(Hons) in English and Linguistics from the University of Malaya and an M.A. (Drama and Theater) from the University of Hawaii, USA..
He has had a long career in teaching and imparting knowledge in primary, secondary and tertiary institutions including the UM, USM and the University Technology MARA. Although retired, his passion for teaching has seen him returning to teach World Religions and Theater in the American Degree Program of the Taylor's College.
Fondly known as Uncle Vijaya in the Buddhist circle, he travels widely to give talks and participate in seminars in schools, colleges and universities as well as Buddhist organizations in Malaysia averaging about 120 talks per year. He has also delivered papers at International Buddhist conferences in Japan, Sri Lanka, Singapore, India, Cambodia and Thailand as well as locally. He is active in promoting Interfaith Understanding among the Muslims, Christians, Hindus, Sikhs and Buddhists.
He assisted the Most Venerable K Sri Dhammananda, the late Chief Priest of Malaysia and Singapore with his numerous publications. He has himself written 12 books on Buddhism. He has contributed articles to many magazines including the Catholic News and Eastern Horizon, which are international magazines published locally. He has also contributed a section on Buddhism to the Encyclopedia of Malaysia, published in 2005.
For more details please contact:
Bro Khor PS 012-519 9003;              Bro Toh LS:  012-405 2933